Yves Saint Laurent Cinema Women Perfume
4/5
$16 - $165
Brand: Yves Saint Laurent
Product Name: Cinema
Perfume Type: Women's
Size: 50ml and 90ml
Top notes: Almond blossom, clementine, cyclamen
Heart notes: Jasmine, amaryllis, peony
Base notes: Vanilla, musk, benzoin, amber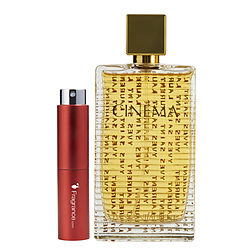 CINEMA by Yves Saint Laurent EAU DE PARFUM SPRAY 027 OZ TRAVEL SPRAY for WOMEN
$22.99
Cinema Perfume by Yves Saint Laurent EDP 90ml
$165.00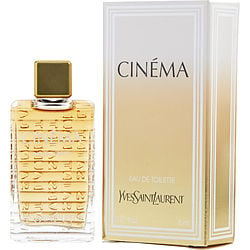 CINEMA by Yves Saint Laurent EDT 027 OZ MINI for WOMEN
$15.99
Yves Saint Laurent Cinema for Women Eau De Parfum Spray, 85.05 g
$159.00
Yves Saint Laurent Cinema Eau de Perfume for Women, 50ml
$155.00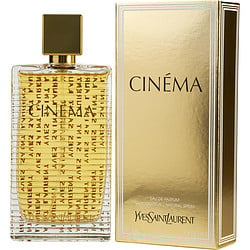 CINEMA by Yves Saint Laurent EAU DE PARFUM SPRAY 3 OZ for WOMEN
$154.99
Cinema by Yves Saint Laurent Women EDP 90ML
$149.00
Cinema by Yves Saint Laurent Women EDP 90ML
$149.00
This Amazing Perfume was launched in 2004 by Yves Saint Laurent. This brand has offered women perfume that can add a little adventure to their evenings. This fragrance includes a combination of Mimosa, White Peony, cyclamen, Mandarin and jasmine, mixed with white musk's, Vanilla and Amaryllis, creating an alluring fragrance that will suit all your social situations perfectly. This amazing Cinema by Yves Saint Laurent in Australia is easily available you can purchase this perfume from the above-mentioned links.
Yves Saint Laurent Cinema Specifications
Brand: Yves Saint Laurent
Product Name: Cinema
Perfume Type: Women's
Size: 50ml and 90ml
Top notes: Almond blossom, clementine, cyclamen
Heart notes: Jasmine, amaryllis, peony
Base notes: Vanilla, musk, benzoin, amber
Yves Saint Laurent CinemaDescription
Cinema can give every woman the feeling of being a star. It is a perfume for glamorous women who live in the spotlight, who have confidence in them and who are elegant, those who know how to attract attention. The headnote is delicate and slightly fresh (Clementine, Almond Blossom, and cyclamen). The heart reveals jasmine, Peony and Amaryllis. The dry down is warm, opulent and balsamic with amber, musk and sweet powdery vanilla. The perfume was created by Jacques Cavallier.
Its captivating floral formula combines amaryllis, cyclamen and delicately sweetened almond blossoms with an intoxicating Headnote of Peony. The Clementine adds an attractive accent of Orange citrus. If you are going to a party or a dinner or have a plan to watch the movie in the cinema, this perfume is the best option for you.
Yves Saint Laurent Cinema Price
This Perfume dazzle yourself with the screaming feminine fragrance called cinema that evokes Hollywood glamour. This romantic and opulent creation of Yves Saint Laurent was created in 2004. Cinema by Yves Saint Laurent price in Australia ranges from 80 to 200 AUD. We have mentioned various stores from where you can purchase this fantastic Cinema perfume.