Sean John Unforgivable Cologne by Sean John for Men
4/5
$40 - $70
Brand: Sean John
Size: 75ml,125ml
Product line: Sean John Unforgivable
Product Type: Eau de Toilette
Fragrance family: Aromatic Fougere fragrance
Top Notes: Basil, Juniper, Sicilian Lemon, Grapefruit, Tangerine, Bergamot, Green Mandarin and Birch Leaf
Middle Notes: Clary Sage, Iris, and Lavender
Base Notes: Cashmere Wood, Rum, Australian Sandalwood, Tonka Bean, and Amber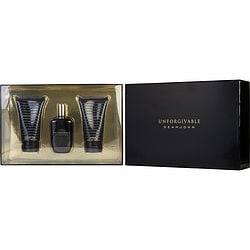 UNFORGIVABLE by Sean John SETEDT SPRAY 42 OZ AFTERSHAVE BALM 34 OZ SHOWER GEL 34 OZ for MEN
$69.99
Sean John Unforgivable 75ml EDT M SP
$50.26
Sean John Unforgivable 125ml EDT M SP
$62.26
Sean John Unforgivable 75ml Tester EDT M SP
$62.17
Sean John Unforgivable Woman 75ml EDT L SP
$51.26
Unforgivable by Sean John for Men - 2.5 oz EDT Spray
$61.17
Sean John Unforgivable 30ml EDT M SP
$40.17
Sean John Unforgivable Multi Platinum 75ml EDT M SP
$47.72
The fresh and aromatic Unforgivable cologne for men comes with top notes of bergamot, basil and birch leaf. The middle notes include clary sage, iris, and lavender. And the base notes of this exquisite perfume are amber, rum and sandalwood – providing the scent with its long-lasting quality. In the evening and during the day, cologne is sufficiently versatile as possible. You will feel courageous and confident in this luxurious blend.
Notes
Top Notes: Basil, Juniper, Sicilian Lemon, Grapefruit, Tangerine, Bergamot, Green Mandarin and Birch Leaf
Middle Notes: Clary Sage, Iris, and Lavender
Base Notes: Cashmere Wood, Rum, Australian Sandalwood, Tonka Bean, and Amber
Price
The Unforgivable Cologne for Men Price in Australia ranges from AU$46-70 - varies from store to store. To help you make your buying convenient and hassle-free, we have enlisted quite a few online stores offering Unforgivable Cologne for Men at different rates alongside some deals and instant discounts. So, compare now and buy at the lowest possible price.
About Brand
Sean Combos is the creator of Sean John who is also known as P. Diddy. The main focus of this company is on high quality, unique fashion. Since the brand began producing fragrances, however, it has received acclaim for its blends.
Several well-known perfumers i.e. Aurelien Guichard, David Apel, Caroline Sabas, Pierre Negrin have created Unforgivable. In 2007, this cologne was also awarded the Fifi Award for Men's Fragrance of the Year. All goods are authentic brands of original names. There are no knockoffs or imitations that they sell.