Salvatore Ferragamo Incanto Charms Women Perfume
4/5
$12 - $65
Brand: Salvatore Ferragamo
Product: Incanto Charms
Fragrance Type: Eau de Toilette
Recommended Use: Casual
Year Introduced: 2006
Targeted Gender: Women
Formulation: Liquid, Spray
Bottle Volume: 30ml, 50ml, 100ml
Incanto Charms By Salvatore Ferragamo For Women. Eau De Toilette Spray 3.4 OZ
$65.00
Salvatore Ferragamo Incanto Charms EDT 100 ml, 100 ml
$49.99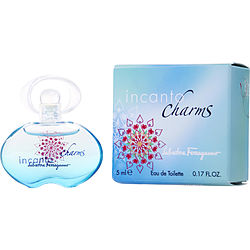 INCANTO CHARMS by Salvatore Ferragamo EDT 017 OZ MINI for WOMEN
$11.99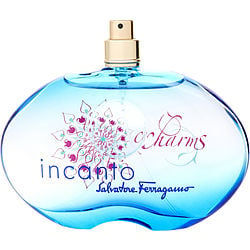 INCANTO CHARMS by Salvatore Ferragamo EDT SPRAY 34 OZ TESTER for WOMEN
$23.99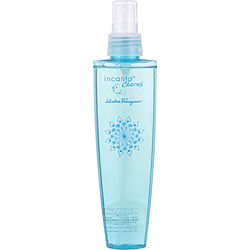 INCANTO CHARMS by Salvatore Ferragamo BODY MIST 5 OZ for WOMEN
$16.99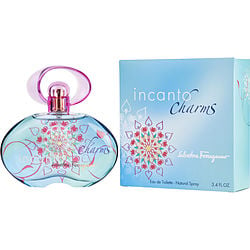 INCANTO CHARMS by Salvatore Ferragamo EDT SPRAY 34 OZ for WOMEN
$30.99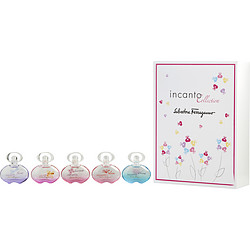 INCANTO VARIETY by Salvatore Ferragamo SET5 PIECE WOMENS MINI VARIETY WITH INCANTO DREAM INCANTO CHARMS INCANTO SHINE INCANTO HEAVEN INCANTO...
$39.99
A perfect blend of sweet, generous, and fruity floral notes is created by Beatrice Piquet. Perfect for summer seasons as Incanto Charms by Salvatore Ferragamo Australia targets the younger woman that gives a quite well sensation and seduction when wearing it. Casually wear at any event or occasions but works fine at daytime. The delightful and comfortable scent of Musky and woody notes create outclass and sensual fragrance that lights up the mode.
Specifications
Brand: Salvatore Ferragamo
Product: Incanto Charms
Fragrance Type: Eau de Toilette
Recommended Use: Casual
Year Introduced: 2006
Targeted Gender: Women
Formulation: Liquid, Spray
Bottle Volume: 30ml, 50ml, 100ml
Incanto Charms by Salvatore Ferragamo is filled up with the top notes of sweet exotic and sensual scents of Honeysuckle and passion fruit that brings up the sensations and peace to mind. The middle notes of Turkish Rose and Jasmine create a magical scent that appeals to others. The bottom notes of Woods and Musk create the seduction and give you excitement as well as freshness to mind and body.
Fragrance Notes
Top Notes: Passion fruit and Honeysuckle
Heart Notes: Turkish Rose and Jasmine
Base Notes: Musk, and Woods
Price and Availability
A passionate shoe designer that is known for his quality and easy to wear shoes is famous because of his reliable and durable shoes that are mostly used by celebrities, politicians and other famous clients. But after the death of Salvatore in 1960, the company bearing his name and now they are manufacturing the products like clothing, watches, handbags, and accessories but the most importantly more than 60 tempting fragrances.
Incanto Charms by Salvatore Ferragamo launched in 2006 and is available worldwide. Loved by each kind of women whether teenager, adult or mature women. As far as the Incanto Charms by Salvatore Ferragamo Price in Australia is a concern, it lies in between A$29 – A$59.