LANVIN Arpege Women Perfume
4/5
$20 - $75
Brand: Lanvin
Product: Arpege
Targeted Gender: Women
Year Introduced: 1927
Bottle Volume: 30ml, 50ml, 100ml
Lanvin Eclat D\'Arpege Eau de Parfum for Women, 100ml
$59.99
Lanvin Eclat D\' Arpege Eau de Parfum, 50ml
$65.28
Lanvin Arpege Eau de Perfume Spray for Women, 100 ml
$43.07
Lanvin Eclat D\' Arpege Eau De Parfum Spray for Women by LANVIN - 1 oz 30 ml, 30 ml
$71.69
Lanvin Eclat D\' Arpege Eau De Parfum Spray 3.3 Oz 100 Ml, 100 ml
$65.00
Lanvin Arpege Eau de Parfum, 100ml
$54.34
Lanvin Eclat D\'Arpege Eau de Toilette, 50ml
$20.00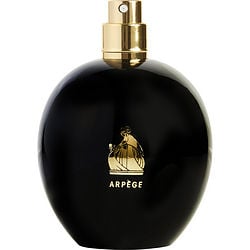 ARPEGE by Lanvin EAU DE PARFUM SPRAY 33 OZ TESTER for WOMEN
$41.99
Arpege by Lanvin Women EDP 100ML
$53.00
Eclat D Arpege by Lanvin Women EDP 100ML
$75.00
Arpege is a feminine perfume by Lanvin that is meant for delicate women that are bold and independent or for those who want to be unique. The Arpege by Lanvin Australia was created by famous perfumers Paul Vacher and Andre Fraysse whereas the bottle was designed by well-known designer Armand-Albert Rateau. The name Arpege comes from a musical term and there is no doubt about it that the fragrance is melodious enough that it gives you a feeling of relaxation and freshness throughout the day.
Specifications
Brand: Lanvin
Product: Arpege
Targeted Gender: Women
Year Introduced: 1927
Bottle Volume: 30ml, 50ml, 100ml
The layers unfold in quick succession on the skin, retreating deeper and deeper into the seductive darkness of a warm musk chop. The composition plays with the indolent richness of white flowers and weaves them through the floor studded with musk and sandalwood. It is airy and sluggish, dark and high-flying at the same time.
Fragrance Notes
Top Notes: Aldehydes, Bergamot, Peach, Orange Blossom, Honeysuckle, Iris, Lily of the valley, Neroli, and Clove
Middle Notes: Ylang-ylang, Rose, Jasmine, Tuberose, Mimosa, Violet, Geranium, Camellia, Genet, and Coriander
Base Notes: Patchouli, Vetiver, Sandalwood, Vanilla, Styrax, Musk, Benzoin, and Ambergris
Ingredients
Alcohol, Denat, Aqua, Linalool, Cinnamal, Isoeugenol, Citral, Farnesol, Benzyl Salicylate, Hydroxyisohexyl 3-Cyclohexene, Carboxaldehyde, Geraniol, Butylphenyl, Methylpropional, Benzyl Benzoate, Hydroxycitronellal, Coumarin, and Limonene
Price and Availability
Company Lavin was founded as a fashion company that joined the union of sewing in 1909, and rights after that it rapidly grows in the fashion industry. Luxurious and fashionable garments are the reason it brands success, but later the company was known for its mother and daughter's matching ensembles.
Arpege hits the market in 1927, released worldwide including Australia. A classic scent that brings delight and pleasure to women those who love a delicate and soft sweet floral fragrance because it contains sweet aromatic and appealing notes of woody, powdery, white floral notes that are combined with the notes of honeysuckle, Neroli, peach, and bergamot. As far as the Arpege by Lanvin Price in Australia is a concern, it lies in between AU$25 – AU$137.