Lancome Poeme Women Perfume
4/5
$20 - $165
Brand: Lancome
Product Name: Poeme
Perfume Type: Womens
Size: 30ml, 50ml, 100ml
Top Notes: Blue Himalayan Poppy and Lychee Blossom
Heart Notes: Orange Blossom, Mimosa, and Jasmine
Base Notes: Vanilla and Desert Datura Flower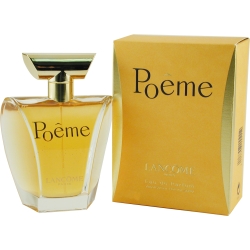 POEME by Lancome EAU DE PARFUM SPRAY 1 OZ for WOMEN
$70.99
Poeme by Lancome 3.4 oz Eau De Parfum Spray for Women
$149.99
Lancome Poeme L\'eau Eau De Parfum 30ml
$99.22
Poeme by Lancome Women EDP 50ML
$129.95
Lancome Poeme Eau de Parfum Spray +, 100ml
$164.85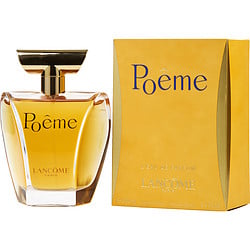 POEME by Lancome EAU DE PARFUM SPRAY 34 OZ for WOMEN
$144.99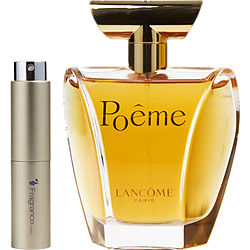 POEME by Lancome EAU DE PARFUM SPRAY 027 OZ TRAVEL SPRAY for WOMEN
$19.99
Poeme by Lancome Women EDP 50ML
$129.95
Lancome is a French company specializing in cosmetics. Created by Armand Petitjean in 1935, this company was created as a perfumer. Today, the brand works in collaboration with some of Hollywood's big names, including Isabella Rossellini and Emma Watson. It offers more than 100 different fragrances that are easily available on the market. This amazing Lancome Poeme Women Perfume in Australia is also easily available you can purchase this perfume from the above-mentioned links.
Specifications
Brand: Lancome
Product Name: Poeme
Perfume Type: Womens
Size: 30ml, 50ml, 100ml
Top Notes: Blue Himalayan Poppy and Lychee Blossom
Heart Notes: Orange Blossom, Mimosa, and Jasmine
Base Notes: Vanilla and Desert Datura Flower
Description
This amazing Poeme perfume by Lancome was launched in 1995, Poeme is a floral fragrance designed for women. This classic Oriental-inspired fragrance is unique in that it does not follow the typical top, middle or base notes structure found in most fragrances. Instead, this perfume has a composition of alternating perfumes. The attractive aroma of the Himalayan Blue poppy acts as the main chord, complemented by Mimosa, Freesia and rose. Classic perfumes like vanilla and leather can also be found, giving this fragrance an aromatic tip. The bottle has an elegant shape and a nice shiny Cork. It is available in different sizes of 30ml, 50ml, and 100ml. Since 1995 this perfume is still famous in the market and people loved to purchase this type of fragrances.
Price
This amazing perfume is made for women who are confident and bold about themselves. It has an amazing scent that can seduce the other person who is walking by through. Lancome Poeme Women Perfume price in Australia ranges from 10 to 50 AUD. This isn't too expensive like other perfumes. We have enlisted various stores from where you can purchase this amazing Perfume made by Lancome.