Jacques Evard Thallium Men Cologne
4/5
$23 - $128
Top Notes: Pineapple and Bergamot
Middle Notes: Apple, Jasmine, and Lavender
Base Notes: Musk, Cedar, Patchouli, and Amber
Thallium Eau De Toillette Spray 100ml By Jacques Evard - Thallium By Jacques Evard Eau De Toillette Spray 100ml For...
$127.91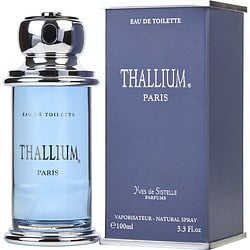 THALLIUM by Jacques Evard EDT SPRAY 33 OZ for MEN
$22.99
Thallium Black By Jacques Evard Men Fragrance
$79.67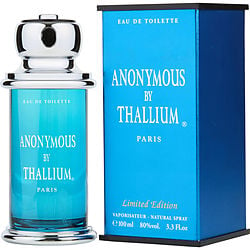 THALLIUM ANONYMOUS by Jacques Evard EDT SPRAY 33 OZ LIMITED EDTION for MEN
$22.99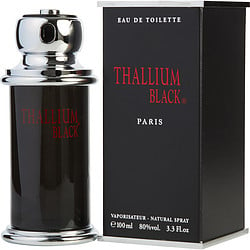 THALLIUM BLACK by Jacques Evard EDT SPRAY 33 OZ for MEN
$25.99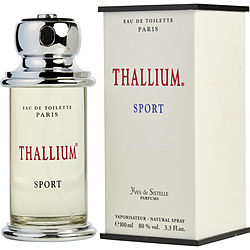 THALLIUM SPORT by Jacques Evard EDT SPRAY 33 OZ LIMITED EDITION for MEN
$25.99
Balmy and refreshingly masculine Thallium was started in 2002 as an oriental fragrance for men. The best note is a breezy and fruity mix of tangy, sweet and pleasant sweet aroma with the oxygen chord. The Eau De Toilette is a floral and fruity blend of apple and scented jasmine and lavender that create a perfect look of stylishness and charm. Heavy and robust, their base notes have a strong sensory attraction and combine cedar and amber with earthy patchouli and musk fragrances. This perfume is supported by the robust mixture of top and bottom notes.
Notes
Top Notes: Pineapple and Bergamot
Middle Notes: Apple, Jasmine, and Lavender
Base Notes: Musk, Cedar, Patchouli, and Amber
Price
The Thallium Cologne for Men Price in Australia ranges from AU$26-39 – varies from store to store. All stores and retailers from all over Australia are listed here on this single page – offering Thallium Cologne for Men by Parfums Jacques Evard at different rates along with a plethora of deals and instant discounts. So, don't let that opportunity to be gone and place your order after comparing their rates to keep your wallet away from a dent.
About Brand
Parfums Jacques Evard designed this Thallium cologne for men. The production was made possible with an aid of Paris Bleu Parfums and it was founded back in 1989. The Paris brand house and all of its products use the finest ingredients and techniques to make the wearer sensational. The organization has achieved worldwide presence over the course of several decades and the company ensures that all the products are of the highest quality conceivable, because each product is made by a renowned designer. The most advanced technology also includes the design of the bottles. All products are genuine brands of original names and they do not sell knockoffs or imitations.