Guerlain Champs Elysees Women Perfume
4/5
$20 - $113
Brand: Guerlain
Product: Champs Elysees
Fragrance Type: Eau de Parfum
Fragrance Family: Fruity Floral
Fragrance Intensity: Moderate
Fragrance Longevity: Long-lasting
Targeted Gender: Women
Year Introduced: 1996
Recommended Use: Causal
Bottle Volume: 30ml, 50ml, 75ml, 100ml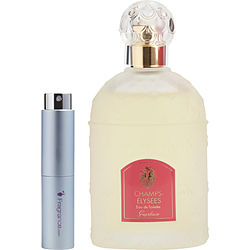 CHAMPS ELYSEES by Guerlain EDT SPRAY 027 OZ TRAVEL SPRAY for WOMEN
$19.99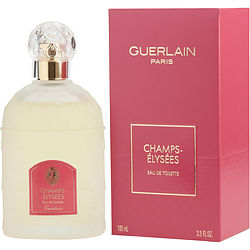 CHAMPS ELYSEES by Guerlain EDT SPRAY 33 OZ NEW PACKAGING for WOMEN
$74.99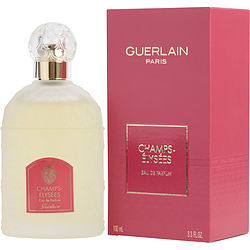 CHAMPS ELYSEES by Guerlain EAU DE PARFUM SPRAY 33 OZ NEW PACKAGING for WOMEN
$112.99
A fragrance named Champs Elysees; an eye-catching mythical bee shaped bottle is designed by Pierre Francois Guerlain for the wife of Napoleon III (wife of Empress Eugenie) back in 1904 is reintroduced in 1996. Champs Elysees by Guerlain Australia has a name common only but differs scent as the scent is fruity floral and is best for the springs season. Elysees is perfect for day wear because of its fruity notes that keep you fresh throughout the day.
Specifications
Brand: Guerlain
Product: Champs Elysees
Fragrance Type: Eau de Parfum
Fragrance Family: Fruity Floral
Fragrance Intensity: Moderate
Fragrance Longevity: Long-lasting
Targeted Gender: Women
Year Introduced: 1996
Recommended Use: Causal
Bottle Volume: 30ml, 50ml, 75ml, 100ml
Overview
Highlights the beauty of mimosa for the first time in the history of perfumery, inspired by the spring and summer for which it blends all splendor of botanical freshness packed inside a bottle. Champs Elysees by Guerlain is perfect for casual use as it is composed with the head notes of all fruity scents like peach, almond, melon and many more. The base notes are merged with flowery scents like Rose, Mimosa, and Primrose that gives an elegant and sweet flowery scent that makes you a feel of freshness while wearing it.
The perfect scent for women of any age whether its teenager, adult or a mature woman, because of the sweet floral fruity scent is applicable by any women. Perfect for day time wear at office time and is long lasting that can stick to your skin throughout the day.
Fragrance Notes
Top Notes: Black Currant, Melon, Almond, Violet, Anise, and Peach
Middle Notes: Mimosa, Primrose, Peony, Rose, Hibiscus, and Lily of the valley
Base Notes: Almond Tree, Cedar, Benzoin, Vanilla, and Sandalwood.
Ingredients
Alcohol, Parfum, Aqua, Alpha-Isomethyl Ionone, Benzyl Salicylate, Butylphenyl Methylpropional, Hexyl Cinnamal, Ethylhexyl Methoxycinnamate, Hydroxycitronellal, BHT, Citronellol, Butyl Methoxydibenzoylmethane, Ethylhexyl Salicylate, Linalool, Benzyl Benzoate, Benzyl Alcohol, Cinnamyl Alcohol, Geraniol, Eugenol, Farnesol, Isoeugenol, and Limonene.
Price and Availability
A fragrance, created by the Jacques Guerlain and Jean-Paul Guerlain that was launched in 1996 as a tribute to the city of lights. An outstanding and generous fragrance is loved worldwide and is available in almost every country including Australia too. Got appreciations from Aussies women as well as the women worldwide loved this appealing sweet and soft floral fragrance. As far as the Champs Elysees by Guerlain Price in Australia is a concern, you may have it in between AU$49 – AU$89.