Giorgio Armani Armani Code Women Women Perfume
4/5
$26 - $165
Brand: Giorgio Armani
Product: Armani Code
Gender: Women
Bottle Volume: 30ml, 50ml, 75ml
Recommend Use: Casual
Fragrance Longevity: Long-lasting
Fragrance Family: Floral, Citrus
Fragrance Type: Eau de Perfume
Fragrance Notes: Orange Blossom, Ginger, Honey, and Sandalwood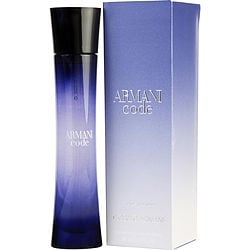 ARMANI CODE by Giorgio Armani EAU DE PARFUM SPRAY 17 OZ for WOMEN
$102.99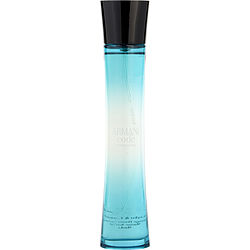 ARMANI CODE TURQUOISE by Giorgio Armani EAU FRAICHE SPRAY 25 OZ TESTER for WOMEN
$110.99
Armani Code by Giorgio Armani Women EDP 75ML
$144.95
Giorgio Armani Code Eau de Parfum Spray for Women 75 ml
$103.92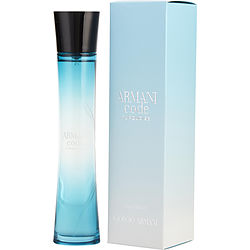 ARMANI CODE TURQUOISE by Giorgio Armani EAU FRAICHE SPRAY 25 OZ for WOMEN
$120.99
Giorgio Armani Code Absolu Eau de Parfum Spray for Women 75 ml
$160.02
Giorgio Armani Code For Women EDP 50ml
$155.00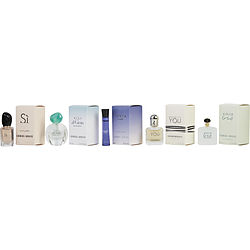 GIORGIO ARMANI VARIETY by Giorgio Armani SET5 PIECE WOMENS VARIETY WITH ARMANI CODE ACQUA DI GIO ARMANI SI ACQUA DI...
$86.99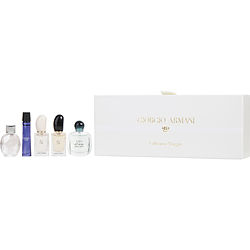 GIORGIO ARMANI VARIETY by Giorgio Armani SET5 PIECE WOMENS VARIETY WITH ARMANI CODE ACQUA DI GIOIA EMPORIO ARMANI DIAMONDS ROSE...
$84.99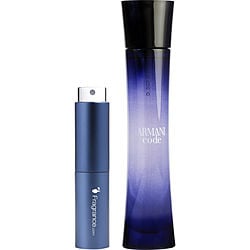 ARMANI CODE by Giorgio Armani EDT SPRAY 027 OZ TRAVEL SPRAY for WOMEN
$25.99
A fragrance that can wake up your senses each morning with its exciting and intoxicating fragrance can be used in days or even in candlelight dinners. Armani is positioning the Armani code as a sexy, feminine and fatal perfume. Armani Code for Women by Giorgio Armani Australia is supposed to be a sexy fragrance perfume; something used for a dinner with someone special or is specially designed for a fatal woman.
Brand: Giorgio Armani
Product: Armani Code
Gender: Women
Bottle Volume: 30ml, 50ml, 75ml
Recommend Use: Casual
Fragrance Longevity: Long-lasting
Fragrance Family: Floral, Citrus
Fragrance Type: Eau de Perfume
Fragrance Notes: Orange Blossom, Ginger, Honey, and Sandalwood
Overview
The Perfume Giorgio Armani Code opens the sweet and floral fragrance because of the presence of Jasmine. The sweet melodious, juicy, scented and citric flavor of this perfume is due to the combination of top notes of Italian orange and bitter orange.
Armani Code Women by Giorgio Armani contains the middle notes of orange blossom that adds a touch of bloom and charm. Jasmine provides a flowery and tempting scent, while the middle notes of ginger add spices, sharp and light notes.
Armani Code has a touch of sweetness due to the presence of bottom notes of honey & Vanilla. Vanilla provides a pleasant and comforting fragrance. The bottom notes of sandalwood bring with it a woody, milky, soft and rich fragrance.
Price and Availability
Giorgio Armani launched the Armani Code Women Perfume back in 2006 that was released worldwide including Australia too. Liked by people and got a good response from all over the globe. Famous for its outstanding and sweet sugary fragrance this Armani Code Women Perfume is easily purchasable from any Australian market as well as can be bought from online stores. As far as the Armani Code Women by Giorgio Armani Price in Australia is a concern, it lies in between AU$89 – AU$179.