Elizabeth Taylor Diamonds Rubies Women Perfume
4/5
$15 - $149
Brand: Elizabeth Taylor
Product: Diamonds & Rubies
Fragrance Type: Eau De Toilette Spray
Targeted Gender: Women
Recommended Use: Evening
Year Introduced: 1993
Elizabeth Taylor Diamonds Rubies Ladies Byelizabeth Taylor - Edt Spray 3.3 OZ
$149.38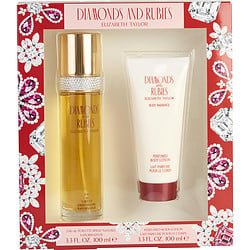 DIAMONDS RUBIES by Elizabeth Taylor SETEDT SPRAY 33 OZ BODY LOTION 33 OZ for WOMEN
$27.99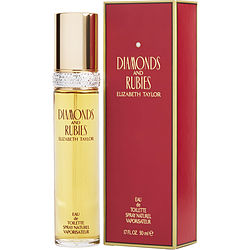 DIAMONDS RUBIES by Elizabeth Taylor EDT SPRAY 17 OZ for WOMEN
$14.99
Diamonds And Rubies by Elizabeth Taylor Women EDT 100ML
$49.95
Elizabeth Taylor Diamonds And Rubies Eau de Toilette Spray, 50ml, 1.7-ounce
$17.10
Elizabeth Taylor Diamonds and Rubies Eau de Toilette Spray for Women, 100ml (119938)
$23.95
Diamonds Rubies by Elizabeth Taylor Eau De Toillette Spray (for Women)
$51.00
Elizabeth Taylor Diamonds Rubies Eau De Toilette Spray For Women 100ml
$149.38
Diamonds And Rubies by Elizabeth Taylor Women EDT 100ML
$49.95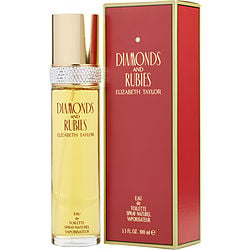 DIAMONDS RUBIES by Elizabeth Taylor EDT SPRAY 33 OZ for WOMEN
$20.99
Toilette Spray for women, Diamonds and Rubies by Elizabeth Taylor Australia was designed by the famous Russian Sophia Grojsman that is a passionate fragrance and reflects the fires of rubies and stars of diamonds with its magical notes. Diamonds and Rubies fragrance is specially designed for such women that command attention when enters a room, or walking by street or going for office work. Recommended time for wearing it is of Evening, as it a blend of sweet scents of Rose, Peach, Amber, Orchid, Lilac, and Vanilla.
Specifications
Brand: Elizabeth Taylor
Product: Diamonds & Rubies
Fragrance Type: Eau De Toilette Spray
Targeted Gender: Women
Recommended Use: Evening
Year Introduced: 1993
The feminine fragrance is a perfect mixture of top notes of Peach, Rose, Cyclamen, and almond tree, the heart notes add seductiveness with the middle notes of juicy jasmine, orchid, heliotrope, and sweet rose. The base notes consist of powerful notes like Amber, Cedar, Powdery Vanilla, Musk, and Milky Sandalwood that gives a long-lasting scent that keeps women fresh throughout the day.
Fragrance Notes
Top Notes: Peach, Red Rose, Cyclamen and Bitter Almond Tree
Middle Notes: Jasmine, Orchid, Heliotrope, and Rose touched by the spices
Bottom Notes: Amber, Cedar, Powdery Vanilla, Benzoin, Sensuous Musk and warm Milky Sandalwood
Ingredients
Ingredients include in Diamonds and Rubies by Elizabeth Taylor are Alcohol, Denat, Fragrance, Parfum, Benzophenone-2, BHT, Propylene, Glycol, Water, and many more. It Flammable, don't bring it close to a flame, keep a distance from the eye, if any case it made contact with your eyes, immediately resin it with water. Make sure you first read the ingredients before buying the product to ensure that whether it is suitable for your skin or not.
Price and Availability
A Greatest Hollywood actress born in 1932 in London was the first actress ever to receive over million dollars for her role in the iconic film Cleopatra. The perfumes manufactured are under the name of Elizabeth Brand that has produced some quality products like White Diamonds that was voted for the top ten successful fragrances in the last few decades. Apart from that, the collection includes Black Pearl and Diamond & Rubies like fragrances.
Launched in 1993, available worldwide including Australia and is still one of the top class fragrances till now that has still its worth and demand in the market. As far as the Diamonds and Rubies by Elizabeth Taylor Price in Australia is a concern, it falls in the range of A$19 – A$39.