Elizabeth Arden Green Tea Yuzu Women Perfume
4/5
$18 - $29
Brand: Elizabeth Arden
Product Name: Green Tea Yuzu
Perfume Type: Womens
Size: 50ml, 100ml
Fragrance: Spicy and Citrus
Elizabeth Arden Green Tea Yuzu 50ml EDT L SP
$21.08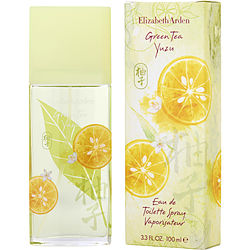 GREEN TEA YUZU by Elizabeth Arden EDT SPRAY 33 OZ for WOMEN
$17.99
Elizabeth Arden Green Tea Yuzu 100ml EDT L SP
$28.63
There are perfumes that sometimes perfectly reflect the pure essence of summer, and Green Tea Yuzu is one of them; a fresh, vital, funny and extremely cheerful essence, which will accompany you freshly on hot summer days. This Green Tea Yuzu by Elizabeth is one of the best companions of your hot days to make your day beautiful. This amazing Green Tea Yuzu by Elizabeth Arden in Australia is easily available you can purchase this perfume from the above-mentioned links.
Specifications
Brand: Elizabeth Arden
Product Name: Green Tea Yuzu
Perfume Type: Womens
Size: 50ml, 100ml
Fragrance: Spicy and Citrus
Description
This fragrance was created in 2014 by the perfumer Rodrigo Flores Youx. Yuzu is the new addition in the family of Green Tea made by Elizabeth, this yellow or green citrus fruit, which looks like bergamot or mandarin, and which expresses all its essence in this creation, giving it with a powerful fragrant. This perfume is available in the two sizes of 50ml and 100ml sizes of bottles.
Its olfactory pyramid begins with a striking citrus explosion, a combination of elements such as bergamot, yuzu, lemon, green tea, and lemon leaves, making it the most significant facet of this creation, conferring it his personality and giving us this incredible dose of energy and dynamism. Its heart keeps the acidulous notes, fused with thyme, mint, Tunisian neroli and currant buds, responsible for slightly softening the hesperidin wake, to finally give you the best and different sort of fragrance in the summer season.
Green Tea Yuzu seduces the woman who wears it thanks to its flight of zesty notes of Yuzu zest, pure Bergamot, and sparkling Lemon that join with an ethereal flow of vapors of Green Tea and Petit Grain Lemon. The fragrance blossoms in a hot freshness born of a Yuzu pulp accord that harmonizes with notes of Wild Thyme, Spearmint, Blackcurrant Buds, Green Tea Leaves and Neroli from Tunisia. All in all, this is one of the best perfumes to be used in hot days.
Price
As we have seen the other perfumes that were recommended for the bold and confident ladies such as SI Intense by Armani. Now we have seen some of the best perfume collection for the hot summer days which has a combination of Citrus. This amazing perfume is made by Elizabeth and named as Green Tea Yuzu. Green Tea Yuzu by Elizabeth Arden price in Australia ranges from 8 to 25 AUD. We have mentioned various stores from where you can purchase this amazing Green Tea Yuzu by Elizabeth Arden.