Drakkar Noir Cologne by Guy Laroche for Men
4/5
$21 - $147
Brand: Guy Laroche
Size: 100ml
Product line: Drakkar Noir
Product Type: Eau de Toilette
Fragrance family: Lavender citrus spicy berries
and sandalwood.
Top notes: Rosemary, artemisia, lavender,
basil,lemon verbena, bergamot and lemon
Middle notes: Coriander, carnation, cinnamon,
juniper and jasmine
Base notes: Leather, sandalwood, fir, amber,
patchouli, oakmoss, vetiver and cedar
Guy Laroche Drakkar Noir for Men Eau de Toilette, 100ml Spray
$52.50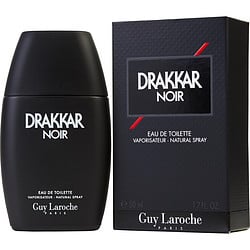 DRAKKAR NOIR by Guy Laroche EDT SPRAY 17 OZ for MEN
$32.99
Guy Laroche Drakkar Noir 200ml EDT M SP
$65.45
Drakkar Noir by Guy Laroche Men EDT 100ML
$89.95
Guy Laroche Drakkar Noir 50ml Eau De Toilette, 50 ml
$55.66
Guy Laroche Drakkar Noir Eau de Toilette - 6.7 oz.
$99.00
Drakkar Noir Eau De Toillette Spray 100ml By Guy Laroche SKU-PAS417054
$104.00
Drakkar Noir by Guy Laroche EDT Spray 3.3 oz (100 ml) (m)
$147.30
DRAKKAR NOIR by Guy Laroche Eau De Toilette Spray 3.4 oz
$84.03
Guy Laroche Drakkar Noir Eau de Toilette Spray, 200ml
$78.90
Guy Laroche's Drakkar Noir fragrance for men is a dramatic and classic fragrance which gives everything you do a sense of excitement. Lavender, citrus and spicy berries blend into the distinctive aroma of the sandalwood. This men's Cologne, launched in 1982, is ideal for occasional trips, whether to explore the city or go hiking. Before leaving the house, apply it to your pulse points and enjoy the attention this masculine fragrance draws all day long.
Notes
Top Notes: Artemesia, Bergamot, Lemon, Lavender, Verbena, Green Mint, Rosemary and Basil
Heart Notes: Cardamom, Cinnamon, Juniper, Coriander, Wormwood and Angelica
Base Notes: Balsam, Pine Needle, Cedarwood, Sandalwood, Amber, Leather, Oakmoss and Patchouli
Price
The Drakkar Noir Cologne for Men Price in Australia is ranging from AU$65-87. The price varies from store to store and depends on which store or retailer you choose to buy from. In order to help you buy without spending a plethora of bucks or breaking your banks, we have listed quite a few online stores from all over Australia offering Drakkar Noir Cologne for Men at unmatched rates. Most important of all, so many deals and discounts are available as well. So, what's the wait?
About Brand
Over plenty of years, Guy Laroche has produced several outstanding styles and fragrances. The founder studied in the United States but moved to Paris to start his own brand. The company released its first fragrance in the 1960s which became an instant hit.
The perfumer who evolved the Drakkar Noir aroma is Pierre Wargnye. This cologne was awarded the FiFi Award "Most Successful Men's Fragrance (Limited)" in 1985. All products are authentic and original brands of name and they don't sell knockoffs or copies.