Clinique Aromatics Women Perfume
4/5
$20 - $172
Gender: Women's
Scent: Chypre
Fragrance Type: Pure Perfume
Fragrance Range: Aromatics
Brand: Clinique
Bottle Volume: 10ml, 25ml, 45ml and 100ml
Scent Intensity: Strong
Scent Longevity: Long-lasting
Year Introduced: 1971
Recommended Use: Daytime
(200 ml) - Clinique - AROMATICS ELIXIR body smoother -200 ml
$86.11
Clinique Aromatics Elixir Perfume Spray, Multi, Fresh, 3.3 Oz
$101.50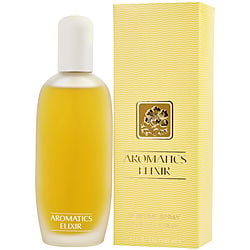 AROMATICS ELIXIR by Clinique PERFUME SPRAY 34 OZ for WOMEN
$80.99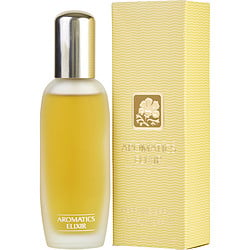 AROMATICS ELIXIR by Clinique PERFUME SPRAY 15 OZ for WOMEN
$55.99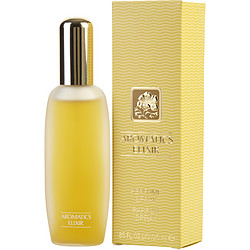 AROMATICS ELIXIR by Clinique PERFUME SPRAY 085 OZ for WOMEN
$36.99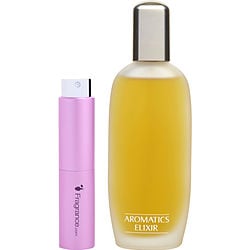 AROMATICS ELIXIR by Clinique PERFUME SPRAY 027 OZ TRAVEL SPRAY for WOMEN
$19.99
Clinique Aromatics Elixir 25ml
$55.12
Clinique Aromatics in White Eau De Parfum 100ml
$158.90
Clinique Aromatics Elixir Eau De Perfume Spray 100ml
$110.00
Clinique Aromatics Elixir Riches Coffret Parfum Spray 100ml34oz Body Smoother 75ml25oz Parfum Spray 10ml034oz 3pcs
$164.00
With an appropriate name, Elixir's aromatic perfume for women is an intoxicating and fragrant blend with no time for shyness. Opening with special notes of herb, sage, and cilantro perfectly balanced with touches of verbena of chamomile and lemon, the aromas travel the floral territory, with the hypnotic ylang-ylang that envelops it in rich and lasting aromas. A classic fragrance as attractive and addictive today as in the year of its debut, Clinique Aromatics Women Perfume Australia is the warm touch of comfort you need during cold autumn or winter days and a fascinating evening accessory with potion-like mystery amulets.
Clinique Aromatics Specifications
Gender: Women's
Scent: Chypre
Fragrance Type: Pure Perfume
Fragrance Range: Aromatics
Brand: Clinique
Bottle Volume: 10ml, 25ml, 45ml and 100ml
Scent Intensity: Strong
Scent Longevity: Long-lasting
Year Introduced: 1971
Recommended Use: Daytime
Clinique Aromatics Overview
Clinique Aromatics Perfume Spray for women is a fresh woody fragrance, which opens with high notes of aldehydes, coriander, chamomile, sage, lemon and verbena, bergamot, Brazilian rosewood and geranium, flowing into a heart of carnation, Tuberose Orange blossom, orris root, jasmine, ylang-ylang and Rose, topped with a base of sandalwood, patchouli, musk, Oak Moss, and incense.
Generally, Clinique Aromatics Women Perfume is built with the Top notes of Lemon verbena, clary sage, chamomile, coriander, aldehydes, geranium, rosewood, and bergamot. The Heart notes of Jasmine, orris root, orange blossom, tuberose, carnation, rose, and ylang-ylang is further added with a supports of Base notes of Vetiver, Oakmoss, Musk, patchouli, sandalwood, and incense.
Clinique Aromatics Price and availability
Introduced in 1971 by Clinique, the aromatic elixir has become the very definition of a woody smell and has bravely defied the passage of time, still liked by most people worldwide. Released globally and has its own worth because of its fragrance. As far as the Clinique Aromatics Women Perfume price in Australia is a concern, you can grab it in the range of AU$79 to AU$159.