Clinique Aromatics Elixir Women Perfume
4/5
$20 - $165
Brand: Clinique
Product: Aromatics Elixir
Fragrance Type: Eau De Toilette
Scent: Chypre
Fragrance Intensity: Strong
Fragrance Longevity: Long-Lasting
Targeted Gender: Women
Year Introduced: 1971
Bottle Volume: 10ml, 25ml, 45ml, 100ml
Clinique Aromatics Elixir Perfume Spray, Multi, Fresh, 3.3 Oz
$101.50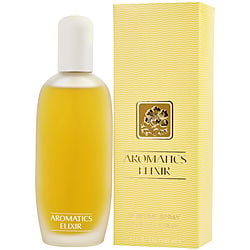 AROMATICS ELIXIR by Clinique PERFUME SPRAY 34 OZ for WOMEN
$80.99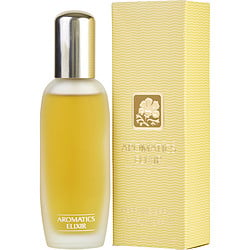 AROMATICS ELIXIR by Clinique PERFUME SPRAY 15 OZ for WOMEN
$55.99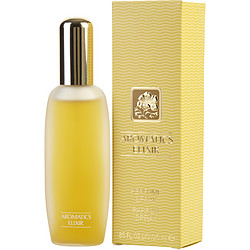 AROMATICS ELIXIR by Clinique PERFUME SPRAY 085 OZ for WOMEN
$36.99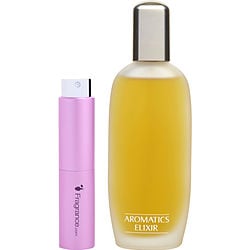 AROMATICS ELIXIR by Clinique PERFUME SPRAY 027 OZ TRAVEL SPRAY for WOMEN
$19.99
Clinique Aromatics Elixir 25ml
$55.12
Clinique Aromatics Elixir Eau De Perfume Spray 100ml
$110.00
Clinique Aromatics Elixir Essentials EDP 45ml set
$108.00
Aromatics Elixir by Clinique Women EDP 45ML
$109.95
AROMATICS ELIXIR by Clinique Eau De Parfum Spray 3.4 oz
$115.00
Aromatics Elixir, a fragrance that is a mixture of woody and aromatic scents that is perfect for everyday wear. The elegance, sweet, and aromatic scent of Aromatics Elixir by Clinique Australia is just because of the perfectly blended notes combined in a simple but classical bottle. Elixir was composed by the master perfumer named Bernard Chant, who is known for its seductive and highly aromatic scents.
Clinique Aromatics Elixir Specification
Brand: Clinique
Product: Aromatics Elixir
Fragrance Type: Eau De Toilette
Scent: Chypre
Fragrance Intensity: Strong
Fragrance Longevity: Long-Lasting
Targeted Gender: Women
Year Introduced: 1971
Bottle Volume: 10ml, 25ml, 45ml, 100ml
The top notes of Chamomile, Coriander, Geranium, Clary sage, Bergamot, Rosewood, and Verbena gives a charming and attractive scent while the heart notes of Tuberose, Oakmoss, Jasmine, Orris, Orange blossom, and Ylang-Ylang gives sensual and seductive scent that is so hard to resist. Perfect for both daytime and night-out as the scent gives you more confidence and it stays longer at your skin.
Fragrance Notes
Top Notes: Bergamot, Verbena, Geranium, Chamomile, Coriander, Clary sage, and Rosewood
Heart Notes: Orris root, Jasmine, Carnation, Orange blossom, Rose, Tuberose, and Ylang-ylang
Base Notes: Oakmoss, Musk, Patchouli, Sandalwood, Vetiver, and Frankincense
Ingredients
Alcohol, Denat, Aqua, Parfum, Benzyl Salicylate, Geraniol, Linalool, Hydroxycitronellal, Eugenol, Butylphenyl, Methylpropional, benzyl alcohol, hexyl Cinnamate, Citronellol, Farnesol, Limonene, Coumarin, Isoeugenol, Cinnamyl alcohol, Alpha-isomethyl, and Ionone
Clinique Aromatics Elixir Price and Availability
Clinique, a brand founded in 1968 by Estee Lauder Company that was famous for cosmetics as it sold its products in almost 140 countries. Clinique always prefers valuable and high-quality products to enhance and maintain the skin glowing. Clinique made products for men and women of all the ages.
Aromatics Elixir by Clinique was launched by the company back in 1971 that was released worldwide because the company had its own worth and repute all over the world including Australia. As far as the Aromatics Elixir by Clinique Price in Australia is a concern, you may have it in between the range of AU$83 – AU$165 that can be bought from any Australian website or outlet.