Christian Dior Hypnotic Poison Women Perfume
4/5
$24 - $234
Christian Dior Hypnotic Poison Eau de Toilette 50ml
$121.00
HYPNOTIC POISON by Christian Dior EAU DE PARFUM SPRAY 34 OZ NEW PACKAGING for WOMEN
$233.99
HYPNOTIC POISON by Christian Dior EDT ROLLER PEARL 067 OZ for WOMEN
$55.99
Hypnotic Poison by Christian Dior Women EDT 100ml
$199.00
Christian Dior Hypnotic Poison Eau de Parfum, 100ml
$220.00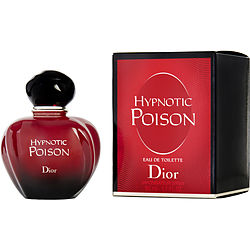 HYPNOTIC POISON by Christian Dior EDT SPRAY 17 OZ NEW PACKAGING for WOMEN
$120.99
Christian Dior Eau de Parfum Spray, Hypnotic Poison, 50ml
$180.00
HYPNOTIC POISON by Christian Dior EDT SPRAY 34 OZ NEW PACKAGING TESTER for WOMEN
$125.99
Hypnotic Poison by Christian Dior Women EDT 50ML
$159.95
HYPNOTIC POISON by Christian Dior EDT SPRAY 34 OZ NEW PACKAGING for WOMEN
$154.99
Name is clearly showing what this amazing perfume is capable of others. Sweet decent and attractive scent always tends others to focus on you while you are passing nearby. Christian Dior Hypnotic Poison Australia is generally for young women who are fond of fashion and style. But also for those who want to keep themselves up to date in terms of fashion. Dior Hypnotic Poison is made up with the top notes of apricot, plum, and coconut; middle notes of tuberose, jasmine, lily of the valley, rose, Brazilian rosewood, and caraway; and with the base notes of sandalwood, almond, vanilla, and Musk.
Christian Dior Hypnotic Poison Overview
The characteristic bottle in the form of candied Apple that comes with the dark layers of molten lava is the most likely by its shape and its blend of shades with fragrance perfume extract hypnotic poison. The master glassmakers Saint-Gobain created the bottle. The neck of the bottle is decorated with a black ribbon with a CD seal, and the bottle is crowned with a black stopper that accentuates the darker side of the composition.
With this new signature, François Demachy, creator and perfumer of DIOR, reinterprets the olfactory world of HYPNOTIC POISON in a very concentrated fragrance. All the opulence expressed by hypnotic poison has been revamped in this high-end version with a new floral facet.
The delicious character of the absolute vanilla blends perfectly with the delicate floral notes provided by the absolute Jasmine Sambac, which rotates in the subtle chords of orange blossom and may rose. Real Olfactory impact, hypnotic poison extract is a magnetic fragrance with an intoxicating sensuality.
Christian Dior Hypnotic Poison Price & Availability
Available worldwide since January 2014, famous for attractive and highly seductive scent, and is resistible. The aroma will surely turn anyone on not other, but it gives comfort to you as well, and the person feels comfortable with the scent. Available in Australia as well, the Christian Dior Hypnotic Poison Price in Australia varies from AU$111 to AU$249. The price differs because of the size of the bottle as it comes in 50mL, 100mL, and 150mL.