Christian Dior Fahrenheit Men Cologne
4/5
$83 - $300
Top Notes: Cedar, Nutmeg Flower, Hawthorn, Mandarin Orange, Lavender, Lemon, Chamomile and Bergamot
Middle Notes: Violet Leaf, Sandalwood, Carnation, Honeysuckle, and Nutmeg
Base Notes: Musk, Patchouli, Amber, Tonka Bean, Vetiver and Leather
FAHRENHEIT by Christian Dior Eau De Toilette Spray 200ml for Men
$229.00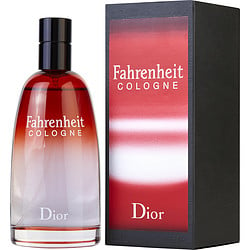 FAHRENHEIT by Christian Dior COLOGNE SPRAY 42 OZ for MEN
$144.99
Christian Dior Fahrenheit 100ml EDT M SP
$130.73
Christian Dior Fahrenheit 0 Degree 100ml EDT M SP
$116.26
Christian Dior Fahrenheit 32 50ml EDT M SP
$103.63
New - FAHRENHEIT by Christian Dior Eau De Toillette SPRAY 200ml - 118249
$229.00
Christian Dior Fahrenheit Eau de Toilette Spray, 200ml
$300.06
Christian Dior Fahrenheit for Men by Eau de Toilette Spray - 1.7 oz50 ml
$144.43
Christian Dior Fahrenheit Absolute Intense 100ml EDT M SP
$112.08
Fahrenheit by Christian Dior Men EDT 100ML
$169.95
Christian Dior Fahrenheit Cologne - Fahrenheit Cologne for men is introduced for those who are seeking a bold, complex scent. This wooded fragrance was created back in 1988 and has citrus top notes of Sicilian mandarin and lemon, which transition from French violet and patchouli to the aromatic mid-notes, and finishes with spicy bases of caraway and musk. This unique, musky scent is available in a burgundy bottle, from the compact, 1.7-ounce eau de toilette to a 5-ounce deodorant spray in a variety of sizes and styles.
Notes
Top Notes: Cedar, Nutmeg Flower, Hawthorn, Mandarin Orange, Lavender, Lemon, Chamomile and Bergamot
Middle Notes: Violet Leaf, Sandalwood, Carnation, Honeysuckle, and Nutmeg
Base Notes: Musk, Patchouli, Amber, Tonka Bean, Vetiver and Leather
Olfactory Notes
Mandarin trees grow in all the Mediterranean countries, but Sicily produces the finest mandarins. The various colors of mandarin i.e. yellow, green and red, match the various stages of maturity. Mandarin essence is a citrus note that gives a fresh and fruity accent to fragrances. Mandarin is Fahrenheit's exotic highlight.
The Violet leaves produce a unique and strong aroma with green, vegetable and always slightly floral notes. A surprising heart note in Fahrenheit is the sensual Violet.
Originally, the Leather note was made to imitate the smell of Russian leather used to make boots of hussars. Their soft leather had birch bark tanned. The burnt, smoky, birch, styrax and cade notes were reproduced and provided by the perfumer with an exotic, enchanting effect. It has Fahrenheit as a baste note.
Price
Looking at Fahrenheit by Christian Dior Cologne Price in Australia, it puts users between AU$74-90 –depending on which online store you choose to buy. In order to help you easily buy Fahrenheit by Christian Dior Cologne at unmatched rates, we have collected a list of online stores and retailers throughout Australia, along with numerous deals and quick discounts. Before you get your hands on one, make sure you go through the whole list. Are you still waiting for something?
About Brand
Christian Dior was the French fashion designer known for his "New Look" design. These "New Look" dresses were designed to show the women's shape, but they were very different from the fabric-conserving models produced before the Second World War. Although Dior died in 1957 - but Dior had a longstanding impact on the fashion industry, and today his company continues to be strong, with his product. Every product is a genuine and original brand name. It is not knock-offs or imitations that the company sell.