Christian Dior Dolce Vita Women Perfume
4/5
$27 - $200
Brand: Christian Dior
Product Name: Dolce Vita
Perfume Type: Womens
Size: 50ml, and 100ml
Top Notes: Lily, Peach, Grapefruit, Bergamot, Rose, and Cardamom
Middle Notes: Apricot, Magnolia, Lily, Cinnamon, Heliotrope, and Brazilian Rosewood
Bottom Notes: Sandalwood, Coconut, Vanilla, and Cedar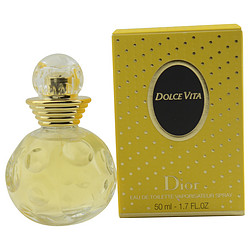 DOLCE VITA by Christian Dior EDT SPRAY 17 OZ for WOMEN
$140.99
Dolce Vita by Christian Dior Women EDT 100ML
$199.95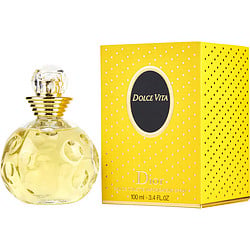 DOLCE VITA by Christian Dior EDT SPRAY 34 OZ for WOMEN
$156.99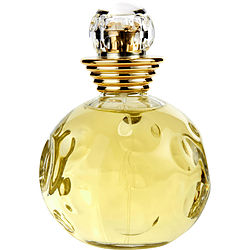 DOLCE VITA by Christian Dior EDT SPRAY 34 OZ TESTER for WOMEN
$140.99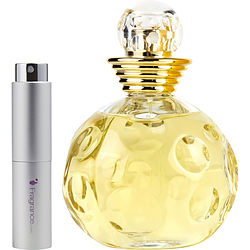 DOLCE VITA by Christian Dior EDT SPRAY 027 OZ TRAVEL SPRAY for WOMEN
$26.99
Dolce Vita by Christian Dior Women EDT 100ML
$199.95
This "sweet" Dior classic was created by Pierre Bourdon and Maurice Roger in 1994. As we have also seen perfumes of other brand named upon the celebrates like Vintage Kate Moss Woman Perfume Christian also introduces its perfumed under the name of Dolce Vita. This amazing Dolce Vita Christian Dior in Australia is easily available you can purchase this perfume from the above-mentioned links.
Specifications
Brand: Christian Dior
Product Name: Dolce Vita
Perfume Type: Womens
Size: 50ml, and 100ml
Top Notes: Lily, Peach, Grapefruit, Bergamot, Rose, and Cardamom
Middle Notes: Apricot, Magnolia, Lily, Cinnamon, Heliotrope, and Brazilian Rosewood
Bottom Notes: Sandalwood, Coconut, Vanilla, and Cedar
Description
This amazing Perfume Dolce Vita by Christian Dior is a fragrance that was published specially for woman by Christian Dior in 1994, is a floral and Woody fragrance with just what it takes of sweet and spice. Made by Pierre Bourdon and Maurice Roger, this feminine fragrance produces a succulent aroma that will not be easily forgotten in your wake. Brimming with succulent fruits, the top notes contain sweet Lily, fleshy juicy peach, tangy grapefruit, lemon bergamot, romantic rose, and sweet cardamom. The fuzzy apricot, the lush Magnolia, the sensual cinnamon, the Heliotrope, and Rosewood combine to form the heart of the fragrance. Milky sandalwood, tropical coconut, comforting vanilla and well-known Cedar are the basic notes of perfume.
This is a mild Oriental fragrance with a spicy Woody base. This fragrance of joy and happiness reminds us of the warm and sunny summer days-the scent of an easy life. The top notes of this perfume include Lily, Magnolia, and pink, the Middle note followed by peach, Apricot, and cinnamon. heart, while the bottom notes are sandal, Heliotrope, and vanilla.
Price
This perfume with the light and the fascinating scent is available in 2 different sizes. Dolce Vita is available in 50ml and 100ml of bottles. Dolce Vita Christian Dior price in Australia ranges from 100 to 200 AUD. We have mentioned various stores from where you can purchase this amazing Dolce Vita perfume of Christian Dior.