Chanel No 5 Women Perfume
4/5
$21 - $290
Brand: Coco Chanel
Product: No 5
Fragrance Type: Eau De Parfum (EDP)
Recommended Use: Casual
Targeted Gender: Women
Bottle Volume: 30ml, 50ml, 100ml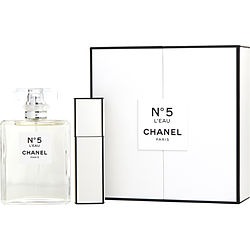 CHANEL 5 LEAU by Chanel SETEDT SPRAY 34 OZ EDT SPRAY 067 OZ for WOMEN
$269.99
Chanel Rouge Allure Velvet Luminous Matte Lip Colour - # 60 Rouge Troublant, 3.5 g
$103.97
Chanel Rouge Allure Velvet Luminous Matte Lip Colour - # 34 La Raffinee, 3.5 g
$104.81
The Secret of Chanel No. 5: The Intimate History of the World\'s Most Famous Perfume
$23.62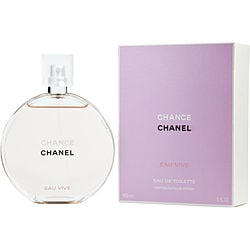 CHANEL CHANCE EAU VIVE by Chanel EDT SPRAY 5 OZ for WOMEN
$289.99
Chanel 5 by Chanel Women EDP 100ML
$289.95
Chanel 5 by Chanel Women EDP 100ML
$289.95
The Secret of Chanel No. 5: The Intimate History of the World\'s Most Famous Perfume
$21.12
Chanel Rouge Allure Velvet Luminous Matte Lip Colour - # 43 La Favorite, 3.5 g
$116.18
A pure romantic and erotic scent packed inside an old fashioned vintage bottle is perfect for adult and mature women. No 5 by Chanel Australia is not for younger girls because it consists of a mature scent that is a bit sexy and attractive too. Recommended for evening wear because of its seductive fragrance, it is perfect for a date or romantic nights.
Specifications
Brand: Coco Chanel
Product: No 5
Fragrance Type: Eau De Parfum (EDP)
Recommended Use: Casual
Targeted Gender: Women
Bottle Volume: 30ml, 50ml, 100ml
Perfect blend of erotic and aromatic notes that generates a sweet and sophisticated fragrance is a mixture of top notes of Aldehydes, Neroli, Lemon, and Bergamot stays for 2 hours that gives a memorizing and seductive fragrance notes while the middle notes of Jasmine and May Rose gives you unique, fresh and spectacular fragrance that would stay for more than 4 hours. The captivating notes of vetiver, soft vanilla, bright amber, comforting sandalwood, seductive civet and warm musk attract and hug you with strength. While the bottom/base notes of Oakmoss and Patchouli stopped you, allowing you to stay in the magic of Chanel No. 5 As long as you desire it to stay with you.
Fragrance Notes
Top Notes: Ylang-Ylang, Neroli, and Aldehydes
Middle Notes: Jasmine and May Rose
Base Notes: Sandalwood, and Vetiver
Ingredients
Alcohol, Aqua, Denat, Parfum, Benzyl Cinnamate, Benzyl Salicylate, Cinnamyl Alcohol, Citral, Citronellol, Coumarin, Eugenol, Farnesol, Geraniol, Hydroxycitronellal, Isoeugenol, Limonene, Linalool, and Alpha-Isomethyl Ionone
Price and Availability
In 1910, the brand Coco Chanel came into existence as a fashion house Chanel S.A that was known for making elegant timeless fashion that looks simple but has versatility in products. Presented on the fifth day of the fifth month of 1921, Coco was released that contains the best essence of women that generally turns the feelings on. The classical and romantic scent made it reputation globally and now it is available worldwide including Australia, as far as the No 5 by Chanel price in Australia is a concern, it lies somewhere in between the range of AU$129 – AU$199.