Carolina Herrera Good Girl Perfume Women Perfume
4/5
$28 - $304
Brand: Carolina Herrera
Product: Good Girl Perfume
Scent: Warm Floral
Fragrance Type: Eau de Parfum
Targeted Gender: Women
Year Introduced: 2016
Bottle Volume: 30ml, 50ml, 80ml
Top Notes: Almond
Middle Notes: Tuberose, Jasmine Sambac
Bottom Notes: Tonka Bean, Cocoa
Carolina Herrera Very Good Girl Eau de Perfume Spray, 50 millilitre
$164.99
Good Girl by Carolina Herrera Eau De Parfum Spray 1.7 oz
$304.36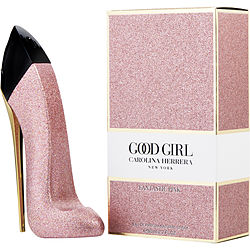 CH GOOD GIRL FANTASTIC PINK by Carolina Herrera EAU DE PARFUM SPRAY 27 OZ for WOMEN
$185.99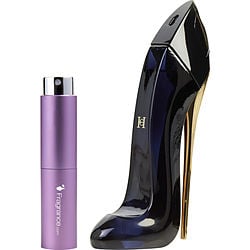 CH GOOD GIRL by Carolina Herrera EAU DE PARFUM SPRAY 027 OZ TRAVEL SPRAY for WOMEN
$32.99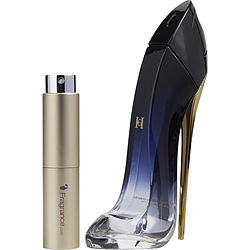 CH GOOD GIRL LEGERE by Carolina Herrera EAU DE PARFUM SPRAY 027 OZ TRAVEL SPRAY for WOMEN
$27.99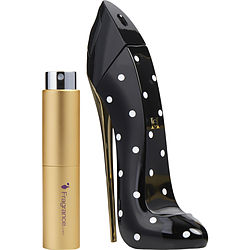 CH GOOD GIRL DOT DRAMA by Carolina Herrera EAU DE PARFUM 027 OZ TRAVEL SPRAY for WOMEN
$32.99
CAROLINA HERRERA VERY GOOD GIRL EDP 30ML SPRAY
$121.28
Carolina Herrera Good Girl Hair Mist - 30ml
$65.62
Carolina Herrera Good Girl Fantastic Pink EDP - 80ml
$179.00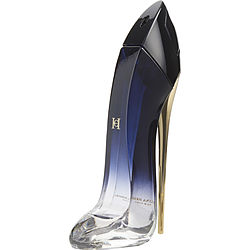 CH GOOD GIRL LEGERE by Carolina Herrera EAU DE PARFUM SPRAY 27 OZ TESTER for WOMEN
$158.99
GOOD GIRL Perfume, the inspiration of Carolina Herrera by the unique vision, specially designed for bold and mature women because the fragrance is bit sexy and bold. To always push and cross the boundary, GOOD GIRL's mysterious sensuality creates a modern and sophisticated fragrance that increases the sensations of mind as well as is quite comfortable. As the heels show the power and igniting passion, the Good Girl Perfume by Carolina Herrera Australia comes with a heel shaped bottle that shows the passion and extreme sensuality fragrance.
Specifications
Brand: Carolina Herrera
Product: Good Girl Perfume
Scent: Warm Floral
Fragrance Type: Eau de Parfum
Targeted Gender: Women
Year Introduced: 2016
Bottle Volume: 30ml, 50ml, 80ml
Top Notes: Almond
Middle Notes: Tuberose, Jasmine Sambac
Bottom Notes: Tonka Bean, Cocoa
The slogan for this Good Girl is that "It's Good to Be Bad", is Powerful and playful, the Good Girl Perfume by Carolina Herrera is a symbol of seductiveness and power. The Black and gold bottle is magnificently designed as the aroma contains the highly seductive notes and the bottle evokes the power and style and is long-lasting as it stays for half day. Applicable at any occasions whether at day time or in nights.
Ingredients
Alcohol Denat., Fragrance, Water, Linalool, Hydroxycitronellal, Benzyl Salicylate, Coumarin, Ethylhexyl Methoxycinnamate, Benzyl Benzoate, Ethylhexyl Silicate, Butyl Methoxydibenzoylmethane, Limone, Geraniol, Citronellol, Isoeugenol, Hexyl Cinnamal, Benzyl Alcohol, and Citral.
Notes
A blended mixture of the Top notes of almond and coffee along with the middle notes of jasmine and tuberose and the base notes of tonka, bean, and cocoa creates a perfect magical fragrance that exposes the duality of women's personality with her sensual and exotic fragrance.
Price and Availability
Carolina Herrera releases the women fragrance in 2016 as the slogan suggests that it's good to be bad, this Fragrance is mysterious and addictive by the classic blend of notes like Tuberose, White Sambac, and Jasmine. Power of seduction comes in a heel shaped bottle and is available worldwide all across the globe including Australia. As concern about the Good Girl Perfume by Carolina Herrera Price in Australia, it lies somewhere in between AU$109 – 199, that can be easily purchasable from any Australian online shores.