Burberry Mr. Burberry Men Cologne
4/5
$48 - $150
Brand: Burberry
Product: Mr. Burberry
Fragrance Type: Eau de Toilette (EDT)
Scent: Woody
Fragrance Intensity: Strong
Fragrance Longevity: Moderate
Targeted Gender: Men
Recommended Use: Casual
Year Introduced: 2016
Bottle Volume: 50ml, 100ml, 150ml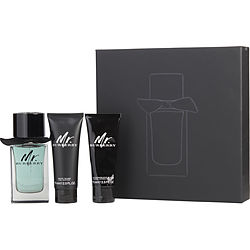 MR BURBERRY by Burberry SETEDT SPRAY 33 OZ AFTERSHAVE BALM 25 OZ BODY WASH 25 OZ for MEN
$62.99
Burberry Mr Burberry 150ml EDT M SP
$100.35
Burberry Mr. Burberry Indigo Eau De Toilette, 50 millilitre
$93.15
Burberry Mr Burberry Indigo Eau De Toilette Spray 30ml
$84.89
Mr Burberry Indigo 2 Piece Set - EDT 100ml + EDT 30ml, 2 count
$105.00
Mr Burberry by Burberry Eau De Parfum Spray 50 ml
$122.00
Burberry MR Burberry Indigo Eau de Toilette Spray for Men, 150 ml
$149.90
BURBERRY MR 50ml Eau De Parfum, 0.5 kg (2526338)
$105.00
Burberry Mr Burberry Eau De Toilette 100ml
$140.70
Mr. Burberry Coffret: Eau De Toilette Spray 50ml + After Shave Balm 75ml 2pcs
$65.62
Ideal for contemporary men, as it contains the aromatic and woody fragrances that open the notes of fresh mint, herbal tarragon, spicy cardamom and grapefruit that generates the long-lasting fragrance leaving a great impact because of its traditional ingredients. Mr. Burberry for Men by Burberry Australia is for grace and style that enters you into a legendary world.
Specifications
Brand: Burberry
Product: Mr. Burberry
Fragrance Type: Eau de Toilette (EDT)
Scent: Woody
Fragrance Intensity: Strong
Fragrance Longevity: Moderate
Targeted Gender: Men
Recommended Use: Casual
Year Introduced: 2016
Bottle Volume: 50ml, 100ml, 150ml
Burberry captures the scent of London and it's surrounding it comes with seductive notes of zesty grapefruit, vetiver, and smoky guaiac wood. The scent that is packed inside a bottle is inspired by an iconic black Burberry trench coat that is known for its honor, appealing, and style. The cap of the bottle refers to horn-look buttons while the hand-tied knot in English-Woven is a sign of celebrating its innovative fabric that is invented by Thomas Burberry more than 100 years ago.
Fragrance Notes
Top Notes: Mint, Cardamom Spices, Tarragon Herbs, and Grapefruit
Mid Notes: Lavender, Cedar, Nutmeg, and Birch Leaf
Base Notes: Sandalwood, Oakmoss, Benzoin, Amber Wood, Vetiver, and Guaiac Wood
Ingredients
Alcohol, Fragrance, Aqua, Butyl Methoxydibenzoylmethane, Butylphenyl Methylpropional, Diethylamino Hydroxybenzoyl Hexyl Benzoate, Citronellol, Alpha-Isomethyl Ionone, BHT, Coumarin, Citral, Limonene, Linalool, Geraniol, Eugenol, and Cinnamal.
Price and Availability
Burberry brand is a well known British brand known for its luxury that was founded in 1856 launched their first fragrance in 1981 and from there the beginning of new luxurious fragrances bought into life, till now the brand has its special worth in the field of fragrance market. It is quite easily available all over the world including the major countries like Australia. As far as Mr. Burberry for Men by Burberry Price in Australia is a concern, it lies somewhere in between the range of AU$49 – AU$139.