Azzaro Chrome Men Cologne
4/5
$24 - $100
Top Notes: Lemon, Bergamot, Neroli, Pineapple, and Rosemary
Middle Notes: Oakmoss, Jasmine, Coriander, and Cyclamen
Base Notes: Cedar, Oakmoss, Musk, Tonka Bean, Cardamom, Brazilian Rosewood, and Sandalwood
Azzaro Chrome Aqua Eau De Toilette Spray for Men, Fresh, 100 ml
$66.50
Loris Azzaro Chrome Men Eau De Toilette Splash, 0.23 Ounce
$25.00
Azzaro-57956-Chrome United Eau De Toilette Spray for Men 100 ml
$82.06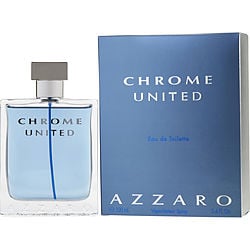 CHROME UNITED by Azzaro EDT SPRAY 34 OZ for MEN
$34.99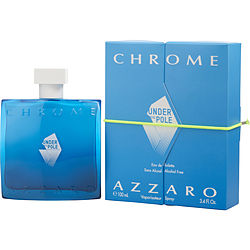 CHROME UNDER THE POLE by Azzaro EDT SPRAY ALCOHOL FREE 34 OZ for MEN
$44.99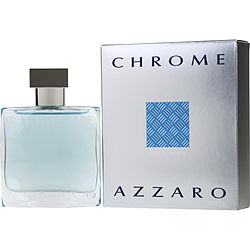 CHROME by Azzaro EDT SPRAY 17 OZ for MEN
$39.99
7Ml Chrome Azzaro Mini Edt
$29.95
Azzaro Chrome 200ml EDT M SP
$48.99
Chrome Azzaro by Azzaro Men EDT 200ML
$99.95
Loris Azzaro Chrome Extreme Eau De Parfum Spray 50ml17oz
$75.00
Azzaro Chrome Under The Pole Eau De Toilette Spray (Alcohol Free),100 ml
$63.25
Chrome by Loris Azzaro for Men 6.7 oz Eau de Toilette Spray
$89.00
Azzaro Chrome Pure by Azzaro for Men - 1.7 oz EDT Spray, 1 ml
$88.00
Chrome Legend by Azzaro Eau De Toilette Spray 4.2 oz
$79.99
Azzaro Chrome 100ml EDT M SP
$47.45
Azzaro Chrome Legend 125ml EDT M SP
$37.99
Azzaro Chrome Summer 2013 100ml EDT M SP
$42.55
Azzaro Chrome Intense 100ml EDT M SP
$54.73
Chrome Azzaro by Azzaro Men EDT 100ML
$59.95
Azzaro Chrome United Eau de Toilette Spray for Men, 100 millilitre
$65.62
Azzaro Chrome Intense Eau De Toilette 100ml
$51.24
Azzaro Chrome Aqua Eau De Toilette Spray 50ml
$60.90
Azzaro Chrome Eau de Toilette Spray for Men, 200 millilitre
$97.80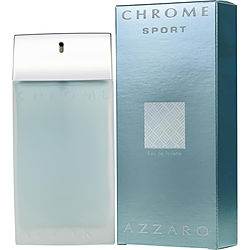 CHROME SPORT by Azzaro EDT SPRAY 34 OZ for MEN
$38.99
AZZARO Chrome dedicated itself to moments of authenticity and joy in living, by honoring the unwavering connection between a father and son, celebrates shared values. It's like one that designer Loris AZZARO has shared with his grandson, Romain, a unique relationship.
Chrome fragrance is a wave of freedom that has tempestuously taken the world of men's perfumes. The fragrance radiates energy, energizes and gives us wings, and gives boldness – even more so when shared.
This story is told again with tenderness by the new AZZARO Chrome campaign. In Greece, Antiparos, the villa is a setting for an unforgettable moment shared by a dad and his son with simple lines overlooking the sea. Director Christopher Hewitt is the leader behind this new campaign, and with its highly graphical visual approach, he gives it an incredibly modern feeling.
Notes
Top Notes: Lemon, Bergamot, Neroli, Pineapple, and Rosemary
Middle Notes: Oakmoss, Jasmine, Coriander, and Cyclamen
Base Notes: Cedar, Oakmoss, Musk, Tonka Bean, Cardamom, Brazilian Rosewood, and Sandalwood
About Brand
The founder of this brand started to produce his own fashion line in 1965, with works becoming especially popular among local women.
At last, famous people and famous figures such as Jane Birkin and Bridget Bardot started to wear his work. In 1975, a famous Salvador Dali-painted work inspired the first AZZARO perfume. A male fragrance was released the following year. All products are genuine and original brands of names. They don't sell knockoffs or copies.
Azzaro Chrome Price
Taking a look at AZZARO Chrome Fragrance for Men Price in Australia, it set users back in between AU$37-80 – depends on which online retailer or store you choose to buy from. To help you buy with ease without any hassle, here on this single page, we have compiled a plethora of Online Stores all over Australia – offering AZZARO Chrome Fragrance for Men at unmatched rates along with quite a few deals and instant discounts. All you need to do is to go through the entire list before you get your hands on one. Is there anything you are still waiting for?