Armaf Club De Nuit Intense Men Cologne
4/5
$34 - $76
Brand: Armaf
By Sterling Perfumes
Fragrance Perfume: Club De Nuit Intense Men
Fragrance: Patchouli Bergamot, Apple, Pineapple, Lemon, Blackcurrant, Rose, Jasmine, Birch, Musk, Ambergris, and Vanilla.
Gender: Men
ML: 100 ML
ARMAF Club De Nuit Intense EDP Spray for Men, Woody, 200 ml
$76.17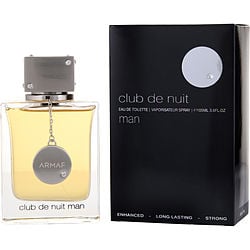 ARMAF CLUB DE NUIT by Armaf EDT SPRAY 36 OZ for MEN
$33.99
Armaf Club De Nuit Milestone Eau De Parfum Spray 105ml36oz 354084
$76.00
Armaf Club De Nuit Eau De Parfum Spray 105ml36oz
$71.00
ARMAF Club De Nuit Intense, 106.46 ml Multicolor (Pack of 1)
$59.90
Armaf Club de Nuit Intense Eau de Toilette for Men, 105ml
$49.95
Armaf Club De Nuit Intense Perfume for Men is a bold scent that starts with fresh, fruity tones of citrus fruit, apple, and blackcurrant. Taking a look at the middle notes, these are birch, jasmine and rose. The sensual base notes of ambergris, musk, patchouli, and vanilla follow this intense smell. The cologne spray for men begins very strongly but is milder within 10 to 15 minutes. Armaf perfumes for men are an ideal donation for birthdays, holidays and whenever you want to make it know just how special it is.
Notes
Top Notes: Grapefruit, Mint and Mandarin Orange
Middle Notes: Ginger, Pepper, Cloves, and Cinnamon
Base Notes: Woody Notes, Leather, Spicy Notes, Patchouli, and Amber
Specifications
Brand: Armaf
By Sterling Perfumes
Fragrance Perfume: Club De Nuit Intense Men
Fragrance: Patchouli Bergamot, Apple, Pineapple, Lemon, Blackcurrant, Rose, Jasmine, Birch, Musk, Ambergris, and Vanilla.
Gender: Men
ML: 100 ML
Price
The Armaf Club De Nuit Intense Perfume Price in Australia ranges from AU$60-80 – varies from store to store. All stores and retailers from all over Australia are listed here on this single page – offering Armaf Club De Nuit Intense Perfume for Men at different rates along with numerous deals and instant discounts. So, don't let that opportunity to be hone and place your order after comparing their rates to keep your wallet away from a dent.
About Brand
Initially, Armaf was not a manufacturer of perfumes. It began as a company producing high-quality perfume bottles for the Middle East designer perfume brands. Armaf then decided to put their game to the next level and began to make perfumes for some designer brands and at the same time lay the foundation for their future success.
After making perfumes for designer brands for some time, Armaf realized that it was time for them to develop into their own brand, making a name for themselves on the market of perfumes. Thus, the brand, now known as Armaf, came into existence. The South African market was Armaf's original focus. Armaf developed a high-quality, sweet fragrance that is synergistic with people's South African climate and skin chemistry, using its extensive knowledge of perfume and how it reacts to human skin.