Aramis 900 Men Cologne
4/5
$35 - $153
Top Notes: Lemon, Brazilian Rosewood, Bergamot, Coriander, and Green Notes
Middle Notes: Rose, Lily-of-the-Valley, Orris Root, Jasmine, Carnation and Geranium
Base Notes: Oakmoss, Civet, Patchouli, Amber, Sandalwood, and Vetiver
New Item ARAMIS ARAMIS 900 HERBAL COLOGNE SPRAY 3.3 OZ ARAMIS 900 HERBALARAMIS COLOGNE SPRAY 3.3 OZ (M)
$152.50
Aramis 900 Herbal Cologne 100ml EDC Spray For Men By Aramis
$52.99
Aramis 900 Herbal 100ml EDC M SP
$69.90
900 Herbal by Aramis 100ml EDC Spray
$152.50
Aramis 900 Tester 100ml EDC M SP
$45.17
Aramis 900 HerbalAramis Cologne Spray 3.3 Oz (M)
$152.50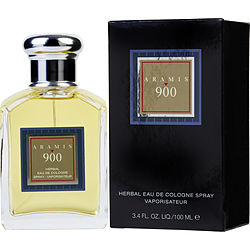 ARAMIS 900 by Aramis EAU DE COLOGNE SPRAY 34 OZ NEW PACKING for MEN
$34.99
Aramis 900 100ml EDC M SP
$51.54
A Woody chypre fragrance "Aramis 900 for Men" captures the attention of the opposite sex. The perfume was created by the experienced and talented Bernard Chant in 1973. The note of sandalwood gives others a sense of presence. The Eau de cologne comes in a stylish glass flacon of 100ml, supplemented by a cylindrical transparent cap. Highlights include coriander, green notes, bergamot, rosewood and citrus fruit of Brazil. The green note recalls the basking grass in the sun and the flowering plants in the sea. The center notes add carnation to the top, orris root, jasmine, valley lily, rose and geranium. Jasmine is surely unique in its fragrance, symbolizing rejuvenation and enthusiasm. The warmth of the dense forest is emanated at the base from the exquisite blend of sandalwood, amber, patchouli, civet, oakmoss, and vetiver.
Notes
Top Notes: Lemon, Brazilian Rosewood, Bergamot, Coriander, and Green Notes
Middle Notes: Rose, Lily-of-the-Valley, Orris Root, Jasmine, Carnation and Geranium
Base Notes: Oakmoss, Civet, Patchouli, Amber, Sandalwood, and Vetiver
Price
Now, let's have a look at Aramis 900 Cologne for Men Price in Australia. This product ranges from AU$44-46 but it completely depends on the online retailer or store you choose to buy from. To help you buy without any hassle and quite conveniently, we have done our best on this single page and compiled a list of online stores from all over Australia – offering Aramis 900 Cologne for Men by Aramis at different rates alongside deals and instant discounts. All you need to do is to make sure you go through every store listed above.
About Brand
Aramis is a perfume line dedicated to men. The company was established back in 1964 when Estee Lauder Companies introduced it to the market. The name is derived from the novel The Three Musketeers by Alexandre Dumas. Aramis fragrance is known for the men's fragrance, with its dominant woody and spicy touches, a classic match. Aramis is still a pioneer in the field of male fragrances while the brand started introducing fragrance for women.